Trails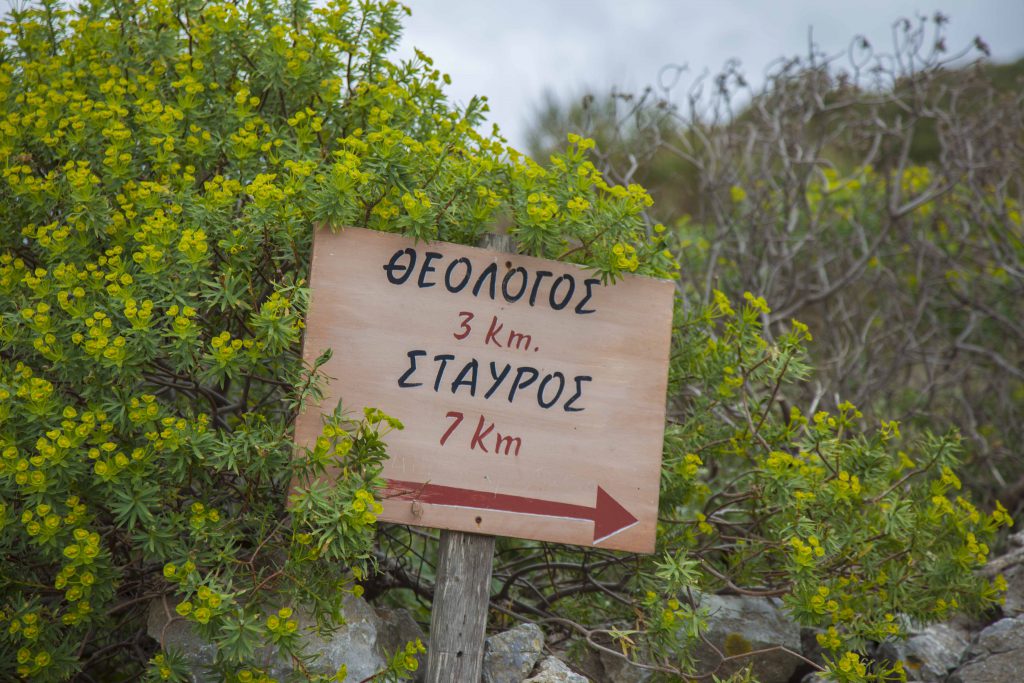 Description
Hiking in Amorgos
Read here about the best trails for hiking in Amorgos.
1. "Old Strata" Route.
Chora – Hozoviotissa Monastery – Kapsala – Asfontilitis
– Potamos – Aigiali Bay
The route takes about 4 hours and 15 minutes and Chora is the starting point. On their way, hikers meet the monastery – emblem of Amorgos, Panagia Hozoviotissa. From there they continue to Kapsala, where they meet Panagia Theoskepasti and the Byzantine small monastery of Aghios Ioannis Chrysostomos. After 2 hours and 20 minutes hiking, visitors reach Asfontilitis, an old agricultural settlement with wells, the paintings on rocks and the chapel of Aghios Nikolaos. Straight after, they reach Oxo Meria, where the chapel of Aghios Mamas is located and through Ano Potamos they reach Aigiali bay. The view of the harbor compensates hikers for their efforts!
2. "Fotodotis" Route: Chora – Milies – Aghia Irini – Katapola.
It is considered an easy ride, lasting 55 minutes, starting from the northern part of Chora, known as Vorina. On their way, hikers meet the chapel of Panagia Fidopotamiani and the chapel of Taxiarchis. After crossing "Fonias" region, they arrive at Milies, an area with rich vegetation and many springs. Hikers continue through the olive grove of Gialynas and end in Katapola.
3. "Itonia" Route: Lefkes (Aghia Thekla) – Aghioi Saranta – Kamari – Kastri (ancient Arkesini) – Vroutsi – Rachoula – Arkesini (Aghia Triada Tower).
During the 3 hours and 10 minutes that this route takes, visitors follow a path cultural of about 4,000 years. This route is particularly interesting as it connects the two ancient cities Minoa and Arkesini. One of the most impressive parts of the route is the archaeological site of ancient Minoa, ancient Arkesini (Kastri), Rachoula and Aghia Triada Tower. On the same route, hikers also come across canyons, beaches and chapels.
4. "Melania" Route: Aigiali Bay – Langada – Stroubos – Panagia Epanochoriani – Tholaria.
This 4.5 km-long route combines great view to Aigiali bay with a cultural heritage of many years. It takes 2 hours and 5 minutes and in Langada, hikers meet the old windmills, the gorge of Araklos and the church of Panagia Epanochoriani. The journey over the centuries does not end there. In Vigla hill, near Tholaria, hikers meet many interesting findings from the citadel of ancient Aigiali.
5. "Pan" Route: Langada – Aghios Ioannis – Stavros – Krikelos.
This route is famous for its wild beauty. It takes 1 hour and 40 minutes and hikers, after travelling over cliffs with paved path, reaches the Byzantine monastery Ioannis Theologos and to the north the chapel of Stavros. Only through this, visitors arrive at the highest point of Amorgos, Mount Krikelos and looks at the Aegean Sea from a height of 851 meters!
6. "Valsamitis" Route: Katapola – Aghios Georgios Valsamitis – Aghia Marina – Minoa.
It is a pleasant and easy hiking route. It starts from Katapola, continues to the dam and goes up to the glebe of Agios Georgios Valsamitis. The return path passes by the chapel of Aghia Marina and ends in ancient Minoa, on a hill above the port. On this hill, there are monuments of the Early Cycladic period, as well as findings of a settlement,indicating that the human presence in Amorgos dates back in 4,000 BC. Hikers return to Katapola through the path that leads to the temple of Aghios Nikolaos.
7. "Evangelistria" Route: Xylokeratidi (Katapola) – Nera – Vigla – Peristeria – Evangelistria.
This hiking route is circular and small in duration, since it does not take more than 50 minutes. It is famous for the spectacular view it offers visitors as the entire route overlooks Katapola Port and the surrounding islands. The route passes by Katapola cemetery and continues to Nera, where there is an ancient spring. It continues to Peristeria, with Vigla on the right, where an important settlement of the Early Cycladic period has been found and ends at the chapel of the Evangelistria, a monument dating from the Byzantine period.
Except the seven aforementioned routes that are considered official, there are several other but you will not find them on maps.
8. Katapola – Evangelistria – Aghia Varvara – Chora route.
Through this relatively easy hiking route, visitors can get to know the flora of the island and the wild plants that grow only there. Its duration is approximately 1 hour and 30 minutes, starting from Rachidi village, passing in front of the Byzantine chapel of Evangelistria and continuing to Vigla. There, it is worth taking a break to enjoy the panoramic view of Katapola bay. Then, it passes in front of Aghia Varvara chapel and from there ends to the town. If someone wishes so, he can return to Katapola following the path from Milies.
9. Katapola – Profitis Ilias – Aghios Thomas – Aghios Dimitrios – Katapola route.
This route takes two hours and starts from Rachidi village. It continues to the hill of Profitis Ilias, where the homonymous chapel is located and more uphill there is the chapel of Aghios Thomas and Aghios Dimitrios. You return to Katapola through a different downhill path.
10. Katapola – Faros route.
The route starts in the settlement of Xylokeratidi and takes 1 hour. Hikers pass through the area of Nera (Eng. Waters) that took its name from the ancient springs that exist there and crosses the area of Peristeries to reach the chapel of Profitis Ilias, just 150 meters from the lighthouse (Faros) at the entrance of the Katapola port.
11. Katapola – Vlychada beach route.
This route is easy and takes 40 minutes hiking. It starts like route 10 up to Peristeries but after that it changes course and moves to the left where hikers can find the path that leads to the blue waters of Vlychada.
12. Chora – Katapola route (via Aghios Nikolaos).
There are two crossing paths, paved in most part, as they are the main routes connecting these two settlements from the ancient times. The first route takes approximately 45 minutes and the second 30 minutes. This is an easy route that starts from Chora village, follows the provincial road Chora – Katapola and on the first junction meets the path on the left, next to the car workshop. The second and shorter junction is a little bit after that, next to Aghios Nikolaos chapel, located on the provincial road.
13. Profitis Ilias (Chora) – Rychti "Hotel".
On this route, visitors have to walk about 1 hour to the top of the mountain and 1 hour and 30 minutes until Rychti area. The route starts from Fotodotis area, passes through Dema area and goes up Profitis Ilias Mountain with the homonymous chapel. A few minutes break at this point is considered necessary as the view to the ocean is magical.
14. Arkesini (Kato Meria) – Amoudi beach Route.
A dive in Amoudi will reward visitors' efforts to follow this route. An easy route, takes about 40 minutes and starts from Arkesini village. Hikers go up a dirt road and then go down the path that leads to the amazing waters of Amoudi beach.
15. Tholaria (Aigiali) – Mikri Vlychada (beach) Route.
For a dive on the beach of Mikri Vlychada, hikers have to travel a 40 minutes route. The route starts from Tholaria village and goes downhill at the north of the village, until reaching – Mikri Vlychada beach.
16. Tholaria (Aigiali) – Megali Vlychada (beach) Route.
This is a route of moderate difficulty and takes 1 hour and 30 minutes. It also starts from Tholaria village, goes uphill, continues to Aghios Stefanos chapel and then sharply goes downhill path to Megali Vlychada beach. The area of the beach is quite rocky and is a classic scenery of wild beauty with cliffs and gorges.
17. Asfontilitis (Aigiali) – Plakes – Chalara (beach) Route.
On this route, visitors walk about 1 hour and 30 minutes until Plakes area and 2 hours until Chalara beach. The route starts from Asfontilitis village and follows the paved path leading to Potamos of Aigiali. Then, visitors continue to the left and go down to Plakes area and after that walking by the sea, they reach Chalara beach.
18. Langada (Aigiali) – Machos (Windmills) route.
This easy 45-minutes starts from Langada village and goes up the mountain. There are many ruined windmills and just below there is the chapel of Stavros, known for its rare frescoes.
19. Stavros (Aigiali) – Mine route.
Although this route takes just 45 minutes, it is considered a difficult one. It starts from the chapel of Stavros (Route No. 5, duration 2 hours) and follows by a very rough downhill path that leads to the old bauxite mine.
Contact Info
---
---