Sightseeing in Aegiali
Sightseeing in Aegiali
Vigla – Ancient Aegiali
The Acropolis of Ancient Aegiali was built by Milesian colonists and is located near Tholaria, on the hill of Vigla. There are remnants of ancient wall, statue bases, sculptures and various ancient items. At this point, among others, torsos of Kouros statues have been found, dating back to the archaic era. The findings in the northern fortified section of the acropolis indicate a settlement from the early Cycladic era. An approx. 10-minute hiking path leads from Tholaria to ancient Aegiali.
Asfondilitis
Asfondilitis is an abandoned rural settlement on the way from Aegiali to Chora nearby Oxo Meria. It is a monument of rural architecture that remains intact until today. All its buildings are made with dry-stone walls and the roofs with wood and soil. It is believed that it was named after the Asphodel plant that is common in the area. At the entrance of the settlement there is also the church of Aghios Nikolaos that "welcomes" visitors. The settlement of Asfondilitis is decorated by more than 200 rock carvings of violinists, musicians and dancers. The wall paintings were made by Michael Roussos, who was born before 1900 and died during the occupation in World War II. According to seniors, he was handicapped and his amusement was to carve sophisticated scenes from everyday life in the village on rocks, stones and house walls.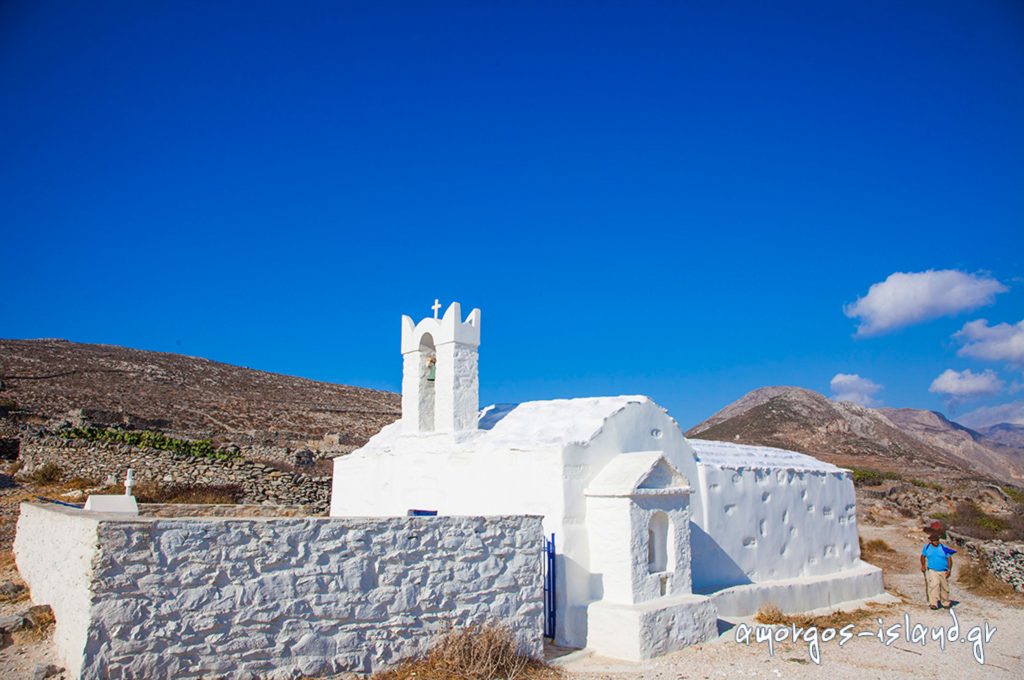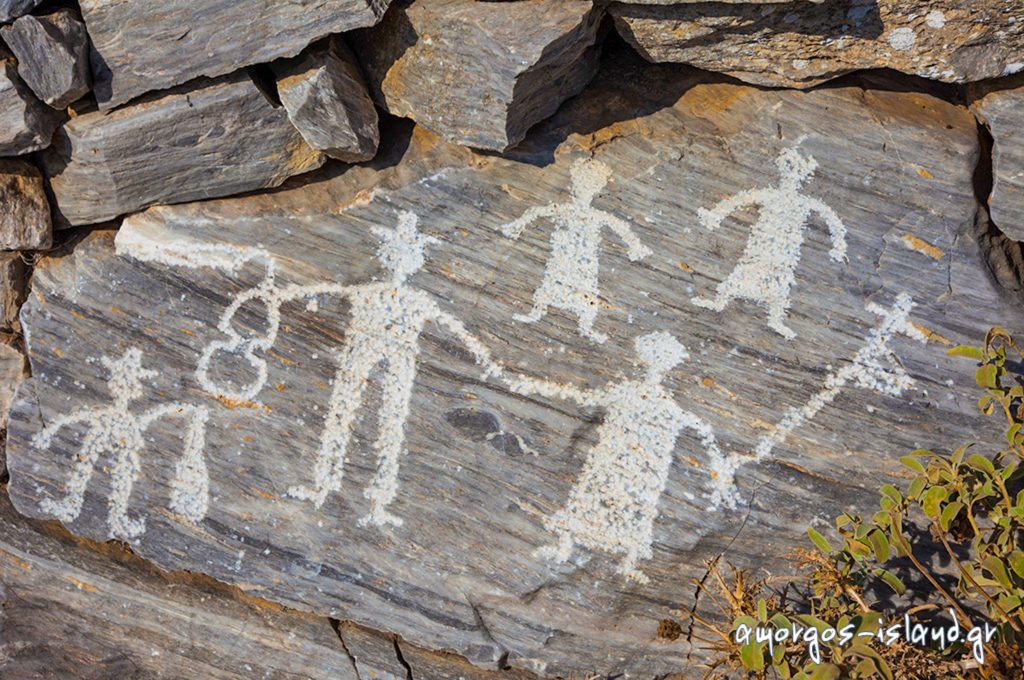 The churches of Aegiali
Potamos is a beautiful village with traditional houses, built amphitheatrically above the Aegiali Bay. The Church of Analipsi (Ascension) stands also there, hosting every year a Holy Feast. Among the churches of Aegiali are the church of Aghia Triada (Holy Trinity), which is wedged deep in the rock and has an amazing view to the bay of Aegiali and the church of Panagia Epanochoriani (Holy Mary on the Upper Village) in Langada. The exceptional church of Stavros (Cross) is located east of Langada.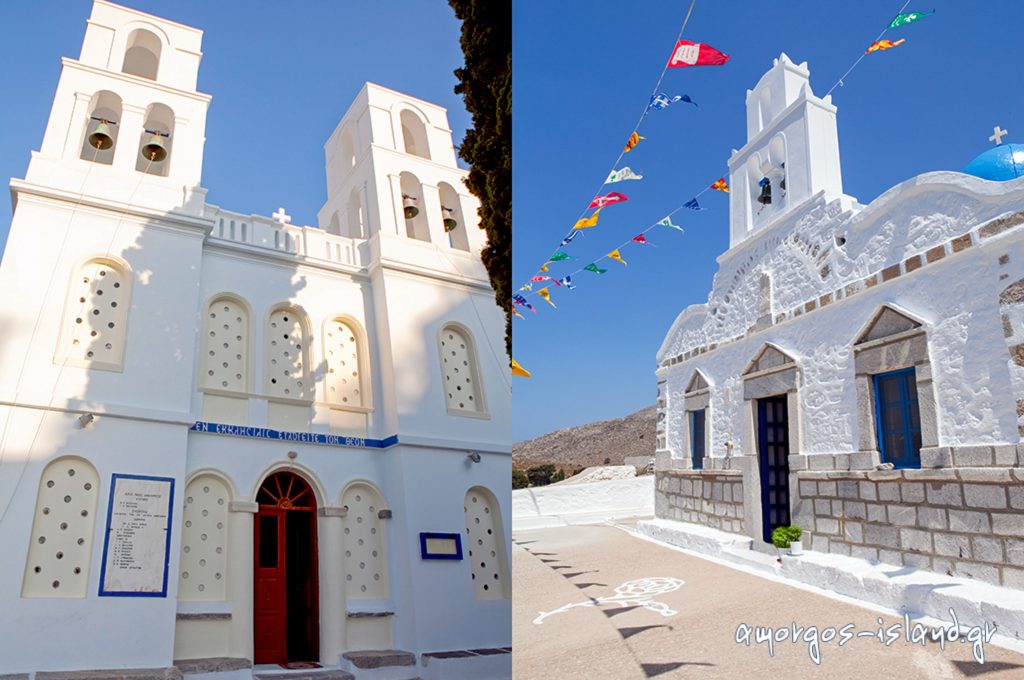 Aghios Ioannis Theologos (St. John the Theologian)
Aghios Ioannis Theologos is located northeast of Langada and today is a dependency of the Monastery of Panagia Hozoviotissa. In the church, built during the years of iconoclasm, there are preserved frescoes of the Byzantine period. About an hour of hiking is needed to reach there from Langada.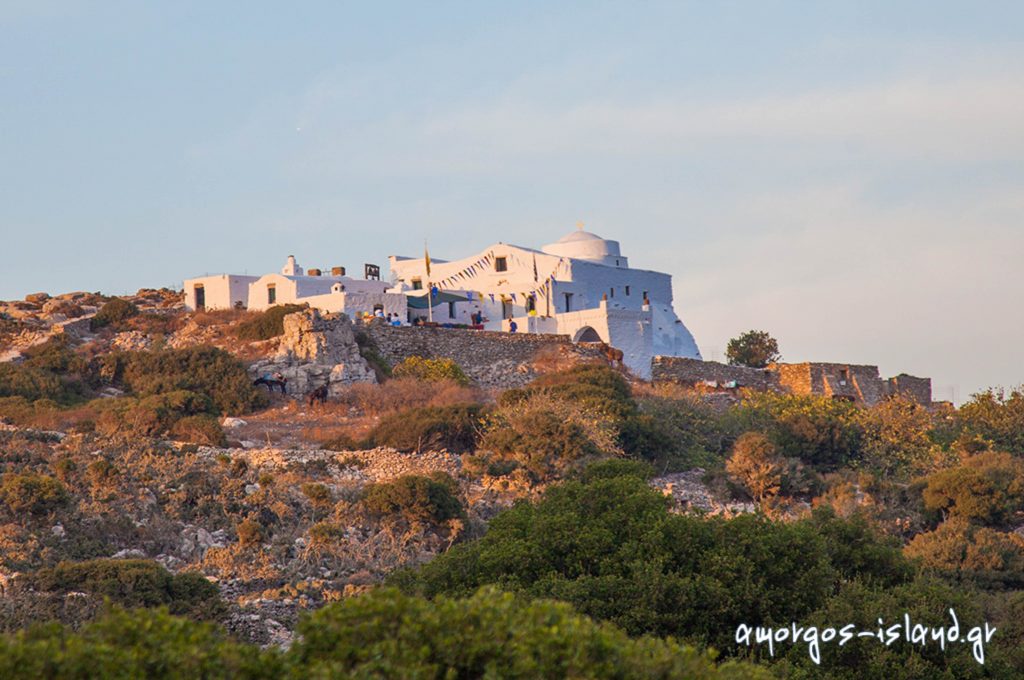 Aghioi Anargyroi of Tholaria
The ecclesiastical sacristy of Aghioi Anargyroi (Holy Unmercenaries) in the parish of Tholaria was established in 2009 and is housed in the vaulted hall under the courtyard of the parish church at the very entrance of the village.
Some of the parish relics are also kept in the sacristy and inside the parish church there is a large number of relics, such as icons, vestments, sacred vessels, old books, oblations & offerings, etc., which are operational to date. All were preserved in order to be exhibited to the island inhabitants and its visitors.
The holy parish church and the exhibition are open to the public.